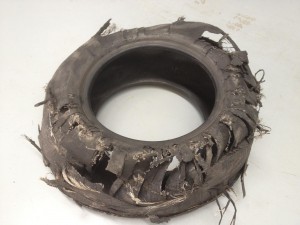 A recent blowout from Melbourne's Ring Road. As the holiday season approaches, an alarming trend has been noticed on Australian roads. Many drivers seem to be giving safety a back seat when it comes to maintaining their tyres.
Travis Osborne, Managing Director of Melbourne business Mobile Tyre Shop, reports an alarming spike in the number of call-outs due to bald and unsafe tyres being used by Melbourne drivers:

"I'm not sure if it's just because it's close to Christmas or if it's the current economic climate, but we're seeing a lot of tyres in our day to day operations that are just plain dangerous to drive on."
Osborne founded Mobile Tyre Shop this year as an alternative to bricks and mortar tyre centres. The concept of a mobile tyre service is popular in Europe, but still relatively unknown in Australia. As part of their day to day operations, Mobile Tyre Shop technicians are called out to deal with blowouts and punctures around Melbourne, as well as supplying and fitting tyres and performing wheel alignments at people's home or work.
The pictures below show some of what they've encountered over the last few weeks as the holiday season draws nearer.
In one instance the MTS technicians were required to replace all 4 tyres on a car that was stranded on the Monash Freeway due to a blowout. On arrival at the scene, they were amazed to see that the tyres were not only completely bald but had worn through the steel belts, causing one of the tyres to fail and narrowly avoiding a major incident at freeway speed.
The risks associated with worn tyres should not be underestimated, with hundreds of serious accidents each year being caused by worn tyres.
Australian Standards dictate that all tyres must have a minimum tread depth of 1.6mm across the tyre width that comes in contact with the road. "Once a tyre gets to less than 2mm, the risk of an incident grows exponentially. In a recent test it was shown that the braking distance from 80kph increased by more than 13.5 metres with worn tyres, which could easily be the difference between a fright and a major collision" says Osborne. "We're urging all motorists to take a minute to check their tyres (including their spare) this holiday season – for their own safety as well as others."
For more information on tyre safety or having your tyres replaced at your home or work request a free quote now or if you spot a friend or family member with concerning tyres, do the right thing and send them to mobiletyreshop.com.au.