Keep your fleet mobile with Mobile Tyre Shop
With the largest network of tyre service vans in Australia, Mobile Tyre Shop provide many of the nation's leading fleet companies with tyre inspections and other related services, onsite.  Our customers range from global rental car companies, to not for profits, government and corporate clients.
If you're responsible for a fleet of vehicles and managing compliance obligations, Mobile Tyre Shop can help.  We offer regular scheduled fleet inspections to provide reports on the condition of each and every vehicles' tyre. Our qualified tyre technicians come on site and use the latest mobile tyre-reading technology to keep a log of tyre wear.  They will even note suggestions to help assist with prolonging the useable life of your vehicles' tyres.
Fleet tyre inspection & management services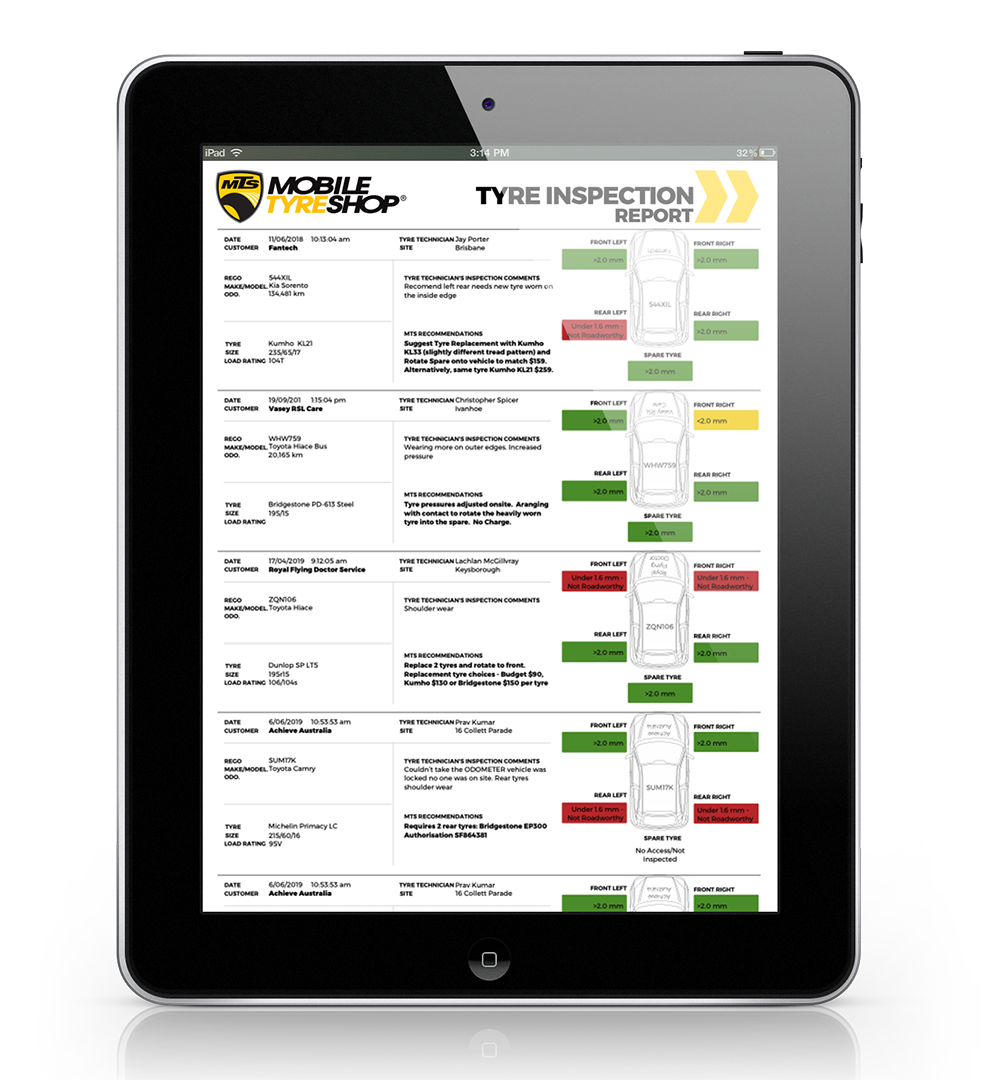 A key part of Mobile Tyre Shop's fleet tyre management service are regular onsite tyre inspections to assist your organisation.  An industry first, these complimentary inspections are conducted by our experienced Tyre Technicians, who then provide Fleet Managers with reports of compliance for workplace health & safety and chain of responsibility compliance.
With Australia's largest network of Mobile Tyre Service vehicles operating nationwide, we have the resources to attend most organisation's sites.
Usually done on a quarterly basis, onsite tyre inspections are intended to extend the life of your tyre assets while verifying legal and fit for purpose for your employees.
This service is designed to be non-disruptive; our technicians use the latest digital tyre reading technology and they require less than 5 minutes per vehicle.  Should a vehicle not be onsite when we attend, our Tyre Technician will simply return on another occasion.
This service can also be extended for your Grey Fleet.
To find out more, or to schedule an inspection, our dedicated Fleet Team are available from 8:00 am to 5:00 pm Monday to Friday on 1300 687 111.