Worn tyres need to be replaced as they can put yourself and your car in danger. One of the most common causes for car crashes in Australia is a defective vehicle, most of which is due to tyres not meeting minimum tread standard. In Australia, by law, the minimum tread on a car tyre must be 1.6mm but in Mobile Tyre Shop's experience seeing cars below this legal limit is far too common.
Unroadworthy tyres – Shocking Statistics
In order to find what percentage of cars on Australian roads need new tyres, it's important to shed some light on some statistics that Australia is unaware about. According to an independent car insurer Youi, car tyre manufacturer Kumho and other statistics gathered, we found that:
Majority of crashes on Australian roads tend to be rear end collisions, around

23%

. 

11%

of which are directly reported as a loss of control on the road.

38% of Australian tyres are unsafe to drive

on which need replacements as soon as possible

around

9% being completely unroadworthy

.

1 in 3 Australians

are driving with illegal tyres.

89% of Australian Drivers do not know the minimum legal tread depth

for their tyres.
Worn Out Tyres – How dangerous are they?
You would ask though, how much does tread depth really make a difference? Through Australian research it can be said that when a vehicle is going 80km/h on a wet surface with only 1.6mm tread depth the vehicle will stop after 40 metres. This means that tyres at the legal minimum of 1.6mm will take an additional 13.6m to stop from 80kph than a new tyre (3 times the length of a Toyota Corolla). On a vehicle with >7mm tread depth the stopping distance is only 26 metres. This could be the difference between stopping safely and having a car accident.
Not to mention the safety aspect of having worn tyres it can also leave your wallet feeling a lot lighter. Australian police can hand your car a defect notice too which can be a costly exercise.
The legal minimum tread depth in Australia is 1.6mm however most tyre manufacturers recommend to replace tyres when they reach 3.0mm. Why 3.0mm ? The cynic in you says because tyre dealers can sell more tyres the truth lies in safety. Once a tyre reaches 3.0mm  the braking performance of a tyre reduces rapidly. Travelling at 80kph in the wet it will take the following distances to stop: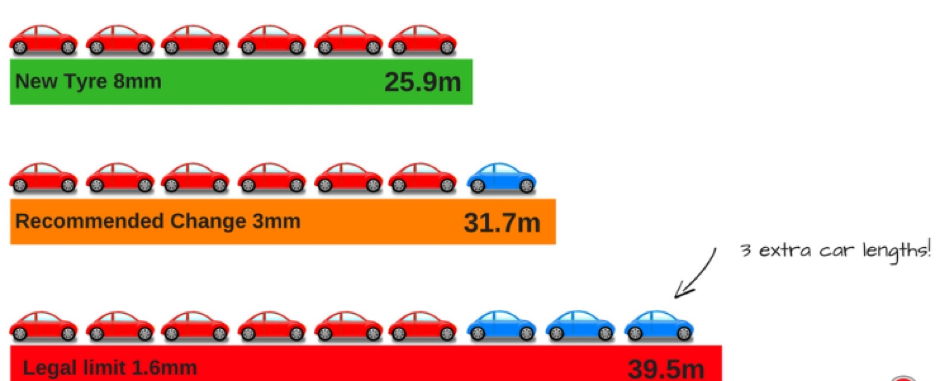 Worn Tyres – Case Study
A recent blowout from Melbourne's Ring Road. As the holiday season approaches, an alarming trend has been noticed on Australian roads. Many drivers seem to be giving safety a back seat when it comes to maintaining their tyres. Travis Osborne, Managing Director of Melbourne business Mobile Tyre Shop, reports an alarming spike in the number of call-outs due to bald and unsafe tyres being used by Melbourne drivers:
"I'm not sure if it's just because it's close to Christmas or if it's the current economic climate, but we're seeing a lot of tyres in our day to day operations that are just plain dangerous to drive on."
Osborne founded Mobile Tyre Shop as an alternative to bricks and mortar tyre centres. The concept of a mobile tyre service is popular in Europe, but still relatively unknown in Australia. As part of their day to day operations, Mobile Tyre Shop technicians are called out to deal with blowouts and punctures around Australia, as well as supplying and fitting tyres and performing wheel alignments at people's home or work. The pictures below show some of what they've encountered over the last few weeks as the holiday season draws nearer.
In one instance the MTS technicians were required to replace all 4 tyres on a car that was stranded on the Monash Freeway due to a blowout. On arrival at the scene, they were amazed to see that the tyres were not only completely bald but had worn through the steel belts, causing one of the tyres to fail and narrowly avoiding a major incident at freeway speed.
The risks associated with worn tyres should not be underestimated, with hundreds of serious accidents each year being caused by worn tyres.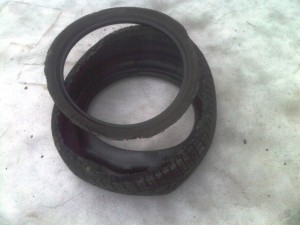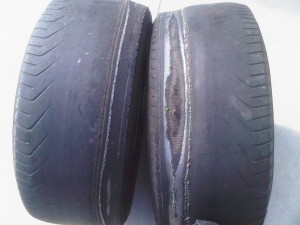 This Mercedes blowout demonstrates that luxury cars are not immune to the results of tyre neglect.
Australian Standards dictate that all tyres must have a minimum tread depth of 1.6mm across the tyre width that comes in contact with the road. "Once a tyre gets to less than 2mm, the risk of an incident grows exponentially. In a recent test it was shown that the braking distance from 80kph increased by more than 13.5 metres with worn tyres, which could easily be the difference between a fright and a major collision" says Osborne. "We're urging all motorists to take a minute to check their tyres (including their spare) this holiday season – for their own safety as well as others."
How To Check If Your Tyres Are Worn?
When was the last time you checked your tyre tread? For most of us the first time we know we need new tyres is when we are told by the mechanic when we are having the car serviced? Do we really, or is it a slow day at the mechanics? While most tyre stores are reasonably trustworthy as a consumer, how do you really know when to replace our tyres? Not to worry, we have 2 amazing guides that can help you with that. 
Mobile Tyre Shop has taken the guesswork out of inspecting tyres. Using a hand held laser scanner Mobile Tyre Shop can immediately provide an accurate tread depth reading and can reveal badly worn or unevenly worn tyres symptomatic of problems such as wheel misalignment or worn suspension. Colour coded 3D scans enable tyre replacement at the optimal time to maximise tyre safety. These reports can be sent directly to the customer's mobile phone or connected device.
If you're concerned about the safety of your tyres it is important to check them yourself or by a trusted tyre expert such as Mobile Tyre Shop. If you do need them replaced allow us to do the hard work and deliver and fit your tyres at home, at work, anywhere.
Tyre Safety Tips
This is a timely reminder to check your own tyres before heading out, especially on longer road trips. Steps you can do to check your tyres:
Check your tyre pressure

Check tread depth to make sure it is above the 1.6mm roadworthy requirement

Replace worn tyres before they become an issue.
Mobile Tyre Shop stresses the importance of checking your tyres before you go on a road trip but really it is much more than that. Regular tyre checkups are required to maintain your own safety on Australian roads coming into the winter months. Mobile Tyre Shop recommends that you check your tyres every 3 trips to the petrol station. It only takes a few seconds to do a visual inspection while filling up with fuel and it can greatly help your safety on the roads.
Get your Tyres Replaced Anytime & Anywhere

Not only can Mobile Tyre Shop provide you with an accurate report on your tyre safety though once the need for new tyres has been diagnosed we come to you and replace your tyres at your home or work, 7 days a week. 
Doesn't a mobile service cost more?
No. As the rent and overheads of running a bricks and mortar tyre store increases Mobile Tyre Shop has worked closely on its logistics model that enables us to not have to hold stock. All stock is delivered same day from our trusted suppliers. This also enables us not to sell the customer whatever limited stock we have on the shelf but to provide the customer with the best tyre for the way they drive their car and at their preferred price point. Most often tyres can be replaced on the same day. If you're looking to shop tyres, look no further. We stock a range of tyres by:
About Mobile Tyre Shop
Mobile Tyre Shop launched in 2012 providing mobile tyre services to B2C and B2B customers across all major metro areas including Melbourne, Sydney, Brisbane, Adelaide and Perth. We supply and fit all major brands with the convenience of us coming to you at home, work or just about anywhere 7 days per week. Mobile Tyre Shop are recipients of the 3AW Momentum Energy Award for Small Business and members of the Australian Fleet Managers Association. 
So if you have a Fleet of cars or just want a free tyre safety inspection Mobile Tyre Shop is providing free inspections at locations Australia wide.