Afterpay

 at Mobile Tyre Shop
Need to get your tyres replaced ASAP and don't want to compromise quality and safety, but are a little short of cash right now? Don't worry, Mobile Tyre Shop lets you pay with Afterpay. You don't have to put off getting the tyres that will keep you and your family safe on the road today. Afterpay offers instalment plans for Mobile Tyre Shop shoppers, so you can buy your tyres today, and pay for them in four instalments, interest-free. Afterpay also lets you take advantage of Mobile Tyre Shop's latest 4 for 3 offers and ensures you don't have to miss out on limited–time deals from big brands like Bridgestone, Continental, Pirelli, Michelin and Hankook. With Afterpay, you can pay for your battery purchase here on Mobile Tyre Shop, too. It's never been easier to get our professional team on the road to your home or work, and have your car fitted with a fresh new battery or spanking new tyres, thanks to Afterpay.  

Shop now. Pay later.
Always interest-free.
Using
Afterpay
with Mobile
Tyre Shop

Choose the tyres or batteries you'd like us to fit to your car.

Choose the tyres or batteries you'd like us to fit to your car.

Choose the tyres or batteries you'd like us to fit to your car.
Afterpay the entire Mobile Tyre Shop range
No matter what type of tyre you're looking for, we stock them at Mobile Tyre Shop. We are Australia's largest online and onsite-fitment tyre seller, and have the best brands at the best prices in sizes that suit every type of car or van. And to make things even more convenient for you, you can pay for anything and everything we sell with Afterpay. Just choose from our range of over 7,500 different tyres or over 130 batteries, choose to pay with Afterpay at cart and your order will be on its way to be fitted at your home or work by as early as tomorrow. You then simply can pay for your order over four simple instalments, due every two weeks with Afterpay. Afterpay makes it simple to pay when it suits you best. Plus when you pay with Afterpay, every tyre and battery you buy is covered by Mobile Tyre Shop's Mobile Price Guarantee. 
We stock all your favourite Afterpay tyres, including: 
BFGoodrich >
Bridgestone >
Continental >
Dayton >
Dunlop >
Firestone >
General Tire >
Goodyear >
Hankook >
Kumho >
Michelin >
MTS Budget >
Pirelli >
With the flexibility of Afterpay, you're sure to find the tyres you want with Mobile Tyre Shop. You can easily browse tyres by brand or promotion, or you can search by your car's registration or wheel size. You can also use Afterpay to purchase from Mobile Tyre Shop's full range of car and vehicle batteries.  
Search our full battery range here >   
With Mobile Tyre Shop and Afterpay, buying tyres and batteries and having them fitted to your vehicle has never been easier. Our 100% Australian-based team is on stand-by seven days a week to assist with your purchase, schedule your fitting time at home or work, and answer any questions you may have about Afterpay. For convenient and affordable Afterpay tyres and batteries, look no further than Mobile Tyre Shop!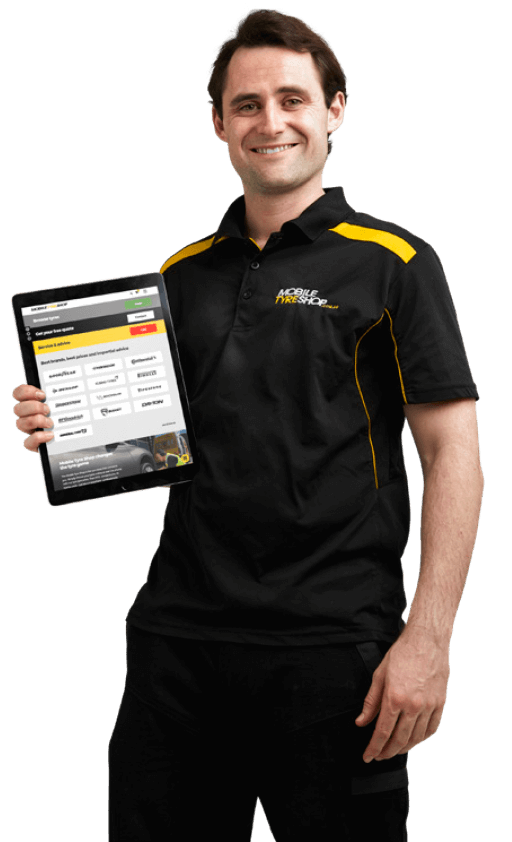 Benefits of Afterpay at Mobile Tyre Shop
You don't have to compromise performance or safety – Afterpay allows you to shop now across the full Mobile Tyre Shop range, confident that you don't have to have the full purchase amount at hand right away. With Afterpay, you can shop now, pay over 6 weeks – and never pay interest
Enjoy instant approval decision –

If you

 apply

 to pay with 

Afterpay

 at checkout with Mobile Tyre Shop, y

ou'll know you've been approved within seconds. Orders ship as they would with any other form of payment, as quickly as you choose. 

Pay in 4 instalments over 6 weeks –

When you use 

Afterpay

 at Mobile 

Tyre

 Shop

, y

ou'll

 pay your first instalment at the time of purchase, and the remainder every two weeks.
Easy updates –

When you buy 

tyres

 with 

Afterpay

, you'll receive a text and email notification when your payment is due – so you'll never miss a date!

No fees when you pay on time –

With interest-free instalments, the only fees are for late payments. You can find your payment schedule in the 

Afterpay

 app and 

they

'll send you regular reminders. 

Making upgrades accessible –

Want to treat your car and get the best of the best 

tyres

? Mobile 

Tyre

 Shop stock fantastic 

tyre

 brands, and now they're all accessible to you with 

Afterpay

.

 
What is Afterpay?
Afterpay allows you to purchase tyres from Mobile Tyre Shop and pay later in 4 easy interest-free instalments.
How does Afterpay work?
To pay with Afterpay:
Add your tyres to the cart
Select Afterpay as the payment option at the checkout
Signup or use your existing Afterpay account
Once approved, Mobile Tyre Shop will come to you and replace your tyres!
Is there an order limit?
Afterpay allows a maximum of $1500.00 for a single transaction, but you can only have a maximum owing of $2000.00 across all transactions. For example, if you have $1000.00 owing from previous transactions you will only be able to add a new transaction value up to $1000.00
How do I sign up for Afterpay?
Select Afterpay as a payment method (or visit the website).
You can register as you complete your purchase.
Does Afterpay charge interest?
There is no interest payable by you if you place an order using Afterpay. (Is this correct?)
Can I place an Afterpay order with you over the phone?
Afterpay is available as an online payment method and requires login credentials for authorisation. Unfortunately, our team in Sales are unable to manually process Afterpay payments and must be created by the Afterpay customer, which for us would be through the website. The other method would be to use the Afterpay Card with an eftpos terminal
Where can I find out more about Afterpay?
If you would like to know more about Afterpay, visit the Afterpay website www.afterpay.com for a comprehensive list of FAQs & terms. Afterpay's Privacy Policy which can be found at https://www.afterpay.com/privacy-policy
How does the returns process work?
Merchants will be able to initiate all eligible refunds on your behalf. Once completed, your refund will be applied to your order.
How often is repayment?
Afterpay offers your order to be paid in 4 instalments with repayment automatically occurring every 2 weeks.
Afterpay works
with Mobile Tyre
Shop all over
Australia