Want to know what the writing on your tyres means? 
Want to know how to read tyre numbers? Read more about information on detailed specifications regarding speed, load and safety standards here. To get a better understanding of the tyre markings and the size of your tyres, watch the following video:
Tyres come in all sorts of profiles to suit different cars, styles and driving preferences. The mumbo-jumbo markings on the side of a car's tyre wall each represent different specifications of the tyre regarding speed, load and safety standards.
Have you ever worn shoes that are either too big or too small? If so, you would have found them to heavily affect the way you walk, they may completely remove your ability to run, and your overall mobility will be awful. The same can be said when fitting tyres, however there is a lot more at stake when you are operating a motor vehicle. Your car needs a perfect fit – or you are putting yourself at risk and making your car a whole lot less economical.
Multiple facets of the car begin to fall apart when a slightly incorrect tyre size is fitted;
Incorrect readings on your speedo 

Steering is heavily affected 

Accelerating and braking times 
So now we know why it's so important to fit the correct tyres, and let's dive in to how to read tyre sizes. First things first, watch this informative video on how to find your tyre size.
Now that you have found your tyre size, you are most likely wondering what university degree you need to read this mumbo-jumbo. Thankfully, you don't need a university degree, and once you have learned to decipher this information, it will tell you everything you need to know about  your tyres!
A detailed explanation of tyre specifications
The markings on a tyre may look confusing but they are actually very important. Each marking provides a vital piece of information about the specification of each tyre. This includes information such as the maximum speed the tyre can safely sustain, the loads it can carry and the relevant safety standards.
If you are looking for a guide with the tyre markings explained in Australia, the following will be of great help. From enabling you to understand the tyres speed rating codes to the tyre date code, the tire writing and lettering provide you with a lot of information.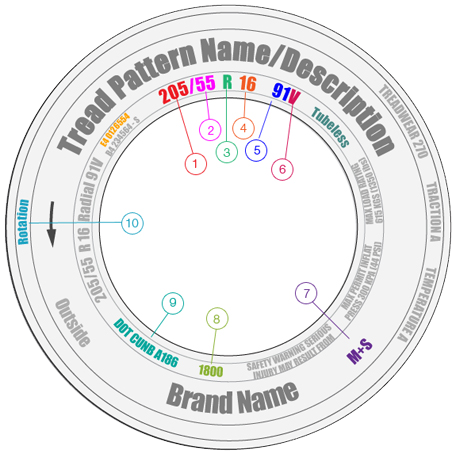 So what do these numbers and letters mean and how do I my check tyre serial number?
First – your tires will have the brand name e.g. Pirelli, followed by the model's name e.g. Scorpion. Next, in order, you will find the following;
Section width  -From sidewall to sidewall, the first three-digit number you see refers to the tires width, in millimeters (mm)
Aspect ratio – The height of the tyre's sidewall expressed as a percentage of the tyre's section width. In the example provided, the height of the tyre's sidewall is 40% of the tyre's section width.
Radial construction – R indicates the tyre is manufactured with a radial ply construction, also known as 'Radial Tyres'.
Rim diameter – This number is shown in inches rather than millimeters, this number confirms the distance of the wheel rim from the wheel flange to the same point on the other side.
The load capacity – The load index rating, or load capacity is represented by a numerical code, and it represents the maximum load (weight) that the tyre can carry while operating at maximum speed. For more information about tyre load ratings, read our tyre load rating guide.
Speed index – The speed ratings or speed index is represented by a single letter, and it represents the maximum speed the tyre can go while carrying its maximum load. The tyre speed rating code in this example is 'V' representing 240 km p/h
M + S – when you see this written on a tyre, it is an indication that the tyre is an all-season tyre. This means that the tyre is suitable for both mud and snow conditions.
Part of the DOT code – the first two numbers indicate the week within the year that the tyres were produced. The following two numbers represent the year in which the tyres were produced.
D.O.T Code – Stands for department of transportation and the code is made of numbers and letters, indicating the place and the date of the tyres manufacture
Hang on, what about these actual dots!?
If you came here wondering what all the confusing dot's are on your tyre mean.. We'll finally get onto that. 
These splats of color are called 'balance dots' and they serve as guides for tyre fitters. Tyre manufacturers don't always balance tyres perfectly, this is why when new tyres are fitted they are also balanced using small weights to ensure the tyres don't create vibration throughout the car.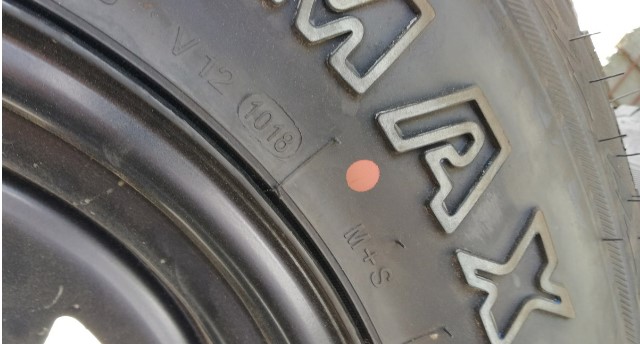 You might find slight deviations in tyre markings and their meanings with different types of vehicles. The main example provided is what you will generally find across all passenger vehicles, however light trucks, SUV/RV & replacement/spare tyres all will have slight differences in markings. 
Hopefully now you have a strong understanding of how to read the markings on your tyres and why it is important to do so. If it's all too complicated still, and you just need to find what tyres are suitable for your car – use our websites registration search to easily find the right tyres for your vehicle. At Mobile Tyre Shop, we stock a range of tyres from:

The 2 charts below are the load rating charts and speed rating charts, which are relevant to points 5 and 6. For more information about the load rating chart, read our tyre load rating guide.
Load Rating Chart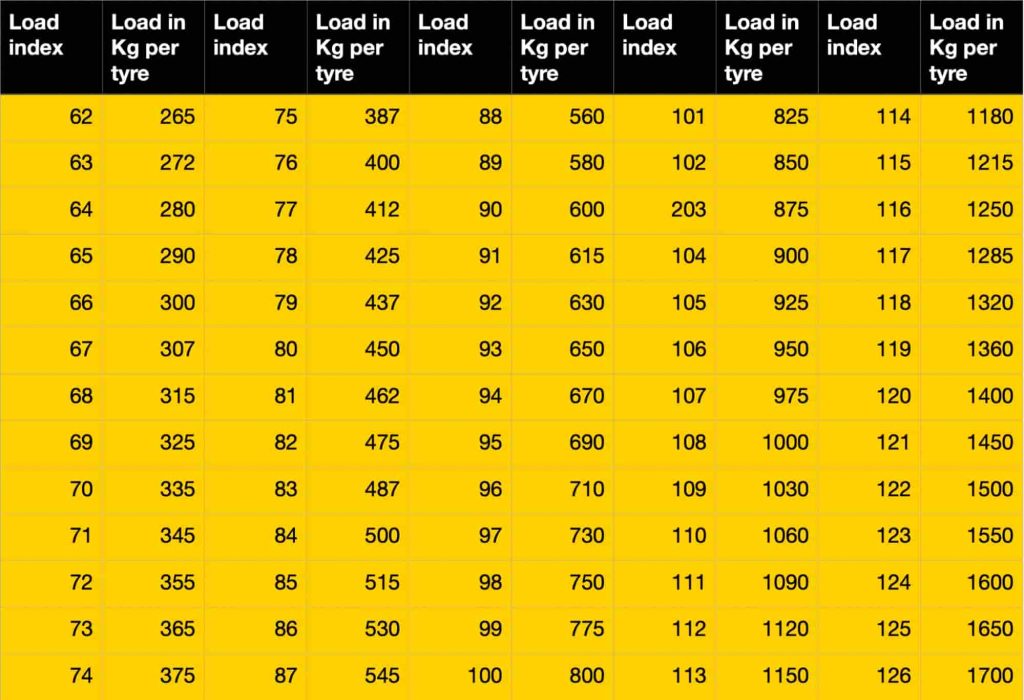 Speed Rating Chart
| | | |
| --- | --- | --- |
| Speed Symbol | Approx MPH | Approx KM/H |
| Q | 99 | 160 |
| R | 106 | 170 |
| S | 112 | 180 |
| T | 118 | 190 |
| H | 131 | 210 |
| V | 149 | 240 |
| VR | 131 | 210 |
| W | 168 | 270 |
| Y | 186 | 300 |
| ZR | 149 | 240 |
If you are still confused by the writing on your tyre or want to understand the tyre rating chart, our experts are here to guide you. Get in touch with us and one of our expert mobile technicians will be happy to help you. We will advise whether you need new tyres, simply call us on 1300 687 000  or contact us here. Mobile Tyre Shop proudly offers the most convenient and state-of-the-art tyre service in Australia, servicing all major areas 7 days a week. Click below to find your nearest Mobile Tyre Shop:
VIC – Melbourne
NSW – Sydney, Central Coast, Wollongong
QLD – Brisbane, Sunshine Coast, Gold Coast
SA – Adelaide
WA – Perth