Want to know what type of tyres your vehicle needs? Read our complete tyre load rating guide covering all points from load capacity to speed ratings. By the end of this article, you should be confident in understanding what tyre load rating is, how to read it, and importantly which tyre load rating is suitable to you, as well as confident in your ability to choose the correct tyre for you.
What is a tyre load rating and how do I find the right one for my vehicle?
The tyre load rating, also referred to as the load index is a specific number assigned to every tyre when they were made by the tyre manufacturer. This number represents the heaviest load your vehicle's tyres can safely withstand when operating at maximum speed.
The tyre's load rating represents how tough the tyre is, as well as its ability to withstand higher PSI's (tyre pressure). It is important to understand this rating as it exists to keep drivers safe on the road. Incorrect tyres can lead to potential tyre blowouts and road safety incidents. Generally, tyre load ratings are set by the manufacturer of the tyres. In order to find the right tyre for your car, the following factors need to be taken into account:
The weight of the vehicle.
Weight of the tyre.
Passenger weight (maximum in the vehicle).
Maximum load carried by vehicle.
Extra weight from the force of the moving vehicle.
If you are still unsure, check the vehicle manufacturer user manual or placard to determine the load limits for your vehicle.
Where can I find my tyre load index?
Generally, passenger vehicles have a tyre load rating value somewhere between 62-126. This number can be easily located on the tyre sidewall – on the side of the tyre. You can also find the tyre load index on the tyre placard which can usually be found on the side of the driver's door, petrol lid or glove compartment.

What tyre load rating do I need?
For the average person who uses a car to get from A to B, the tyre load rating doesn't need to be a priority when choosing a new set of tyres. Having said this, it is still important to find a tyre that meets the tyre load required for the specific vehicle.
Car manufacturers will specify a minimum load rating unique to the car in which the tyres need to meet or exceed for the car to be safe on the road and prevent tyre failure.
The load capacity is extremely important for road safety. It prevents drivers from installing the wrong tyres and protects you and the people around you from accidents that happen from an overloaded tyre.
If a tyre carries too much weight, it will be running with a lower pressure than it is designed for. This will increase friction and internal heat creating faster tyre wear and eventually leading to a blowout and a destroyed tyre.
You should always check your tyres parameters before transporting heavier loads or when selecting new tyres for your car. Your load index can be located on the tyre sidewall or your owner manual.
Factors that affect tyre selection Load Index Chart
If you are however someone who drives a performance vehicle, light trucks / courier vehicles, or often go off-roading, you may need to look at tyre load index more carefully.
High performance cars: Tyres with lower load ratings generally suit the sporty, lightweight makeup of high-performance cars. Often performance car manufactures work closely with tyre manufacturers to develop a tyre that precisely meets the needs of the car.
Off-roading: Usually the preference when purchasing off-road tyres would be a tyre with a high load rating, as these tyres can handle more aggressive driving and often sharp and uneven surfaces, meanwhile withstanding the weight of heavier off-road vehicles.
Transporting goods: Types of vehicles carrying a heavy load such as courier vans, light trucks and work utes will benefit from a tyre with a higher load rating.
If you're still unsure about what type of tyre sizes your car needs, the Mobile Tyre Shop's website has technology built into it that only requires you to type in your registration and we can help you find the perfect tyre for your car. Find your tyre size by rego 
How to read the markings on tyres
The load rating is represented by a numerical value between 62-126, and it directly correlates to the maximum weight each tyre can carry. This number is found on the side of the tyre. For further assistance in reading your load rating, check out our informative video or check out our guide on how to read the writing on your tyres
What are some common mistakes when purchasing new tyres?
Here is a list of easy to avoid mistakes when purchasing a new set of tyres:
Rubber quality – often the quality of rubber on a tyre is overlooked, in favour of spending the money saved on alloys.
All tyres are

NOT

the same – There is no single tyre that is suited for all types of vehicles. It's important to understand your car's requirements and what to look for when shopping for a new set. This will help ensure you get the best fit for your car and your budget
Buying the wrong specification of tyres – this is the BIGGEST mistake you can make, and unless you like buying tyres twice, it should be noted that all cars have a tyre placard on the inside of the drivers door, or written inside the drivers manual.
Accidentally buying performance tyres – Even though performance tyres have some awesome attributes, they are certainly not a wise purchase for everyone. Most people do not need added grip, braking time and speed at the expense of the price tag.
That's why at Mobile Tyre Shop, we stock a range of tyres that are best suited for your vehicle. Shop a range of:
Load Index Chart
As shown in the load index chart, the greater the load index (load rating) the more weight each tyre can carry. This chart can be helpful to read when you are carrying more weight in your vehicle than usual, and you want to ensure your tyres will safely manage the load.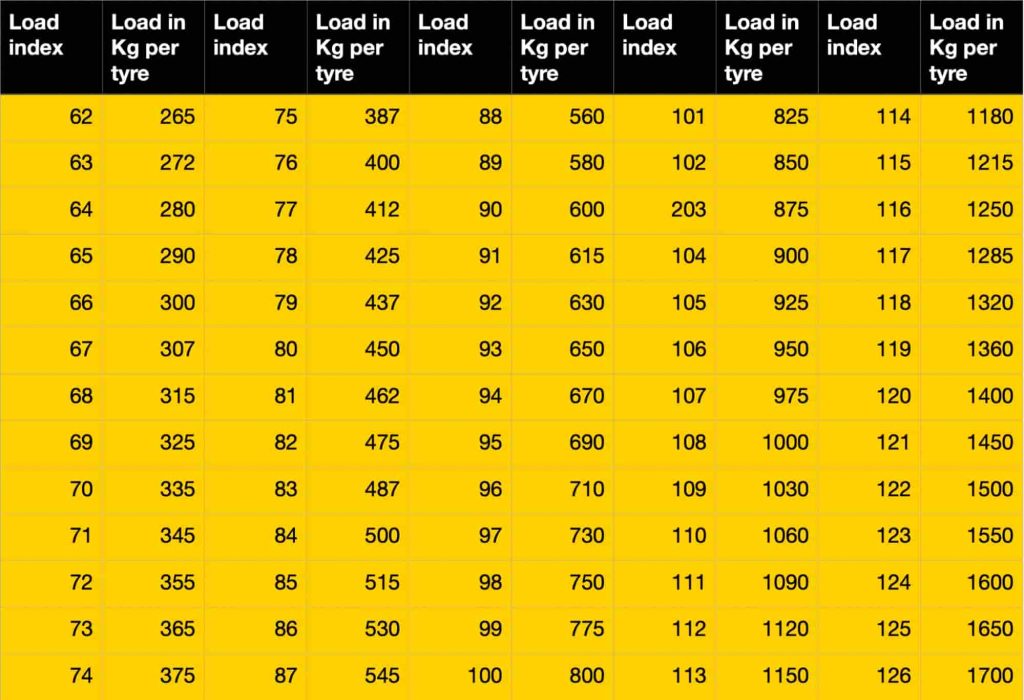 At Mobile Tyre Shop, we stock a comprehensive range of great brands at great prices. All you have to do is simply choose your tyres online or over the phone with our tyre specialists, and we'll come to you and fit your tyres. Shop today or call us or more information. We offer the most convenient and state-of-the-art tyre service in Australia, servicing all major areas 7 days a week. Click below to find your nearest Mobile Tyre Shop:
VIC – Melbourne
NSW – Sydney, Central Coast, Wollongong
QLD – Brisbane, Sunshine Coast, Gold Coast
SA – Adelaide
WA – Perth