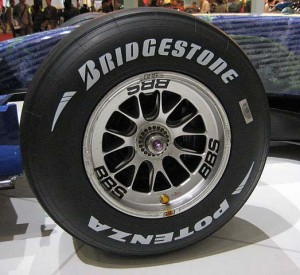 There are all kinds of reasons why you might be calling the Mobile Tyre Shop for help. You may have run over a nail and popped a tyre. You may have had a run-in with an especially vicious pothole. However, there's a pretty good chance that you have not been paying enough attention to your tyres. Maybe they've never been rotated. Maybe you bought the cheapest brand you could find. Maybe they're old and worn out.
If you've got good, well-maintained tyres and you've just had some bad luck, then you'll probably be replacing your damaged tyre with one that's the same brand as the rest. However, if poor tyre quality or all-around wear was a factor in your blow-out, then you may be replacing all your tyres. You won't want to call us three more times, as the others fail one by one. If you're going for a full new set of tyres, then you should be thinking about what brand to buy this time. One excellent choice is Bridgestone.
An Iconic Brand
Bridgestone is a Japanese company that started up back in 1931 in Kurume, Fukuoka. Shojiro Ishibashi was the founder and his name, Ishibashi, means "stone bridge" when translated into English. That makes a great name for a tyre company, doesn't it? Bridgestone, Australia started out as SA Rubber Mills, a supplier for the Australian automotive industry, in the 1930s. Bridgestone still has Australian plants, so some of their products are made in Australia.
Bridgestone owns Firestone in the U.S., and they also have a large European operation. In fact, they are the world's largest tyre manufacturer. In 2010, they pulled in $35.3 billion worth of revenue.
Bridgestone is Known For High Quality
Is bigger better? Well, large companies in the automotive industry are deeply invested in creating high quality, consistent products using the most efficient methods they can develop. Because Bridgestone is a large, well established multinational corporation, you know that they have a huge stake in process management and quality control and indeed, their website has detailed information(1) on their quality control philosophy. They monitor quality, they ask their customers for feedback, and they have systems in place for continuous improvement.
Bridgestone's Large Selection of Tyres Sets Them Apart
Bridgestone has a very wide range of products. You can select one of the top-rated premium Bridgestone tyre ranges: Potenza, Turanza, Dueler or Ecopia. Potenza tyres are race car-tested and performance-oriented; they give you total control. Turanza is Bridgestone's premium luxury tyre, for the very smoothest, safest ride. Duelers are specially designed for 4x4s, and Ecopia tyres are engineered for maximum fuel efficiency. Alternatively, you can choose affordable Bridgestone classics for your passenger car, light truck or 4×4. Based on your need, you can even opt for Bridgestone race tyres.
You may be able to avoid further visits from the Mobile Tyre Shop by choosing Bridgestone Run-flat tyres, or RFTs. RFTs don't go flat. Even when they're deflated, they keep enough of their shape to get you home, or at least to the next service station. There's only one catch. In order to use RFTs, your car must be equipped with an onboard tyre pressure monitoring system or TPMS. If you call or e-mail, we can give you the details.
You can trust the quality of Bridgestone tyres. Both their premium and standard ranges are a good choice for all kinds of cars and trucks. At Mobile Tyre Shop, we supply the world's best brands and models of tyres at surprisingly competitive prices. You can find Bridgestone tyres at the best prices with us.
If you need help in choosing the best Bridgestone tyres, our experts are here to guide you. Based on the model of your car, driving style and budget, we will assist you in the process of Bridgestone tyre selection and ensure that you get the best tyre deal.