Service and Convenience – Disrupting the traditional tyre retailing model, Mobile Tyre Shop is headed for the big time.
Aside from a small percentage of enthusiasts, most drivers or business vehicle operators don't look forward to the purchase of new tyres. They're a 'grudge' purchase or driven by need – a puncture, a blister or the casing is showing through. The fact is that only a very small patch of rubber at each corner of your car or van separates you from an unplanned meeting with the car in front, or a pole or wall. Although tyres save your life daily, their welfare is often overlooked.
Simple, routine maintenance, such as checking air pressures and looking for sidewall bulges are put off from week-to-week because it's too cold or wet or it's a dirty business and you just don't have time. With low profile tyres it is impossible to tell at a glance if the tyres are inflated to the correct pressure, and if they are not then premature wear will occur, not to mention delivering inferior ride, steering and braking performance.
While most private car owners and business users don't prioritise tyre maintenance, they also tend to have a haphazard approach to tyre replacement, fronting up at a tyre shop and placing themselves squarely in the hands of the retail salesperson behind the desk. Tyres come in many compounds and tread patterns for each size or width, making it very hard for the uninitiated (about 99% of us) to determine what is the correct replacement to specify.
Aside from the complexity and confusion of choice, there's the time spent in the waiting room when you have far better things to be doing.
This was the reality perceived by Mobile Tyre Shop's founder and CEO Travis Osborne, who figured that there had to be a better way. He saw that in the UK and USA, mobile tyre delivery and fitting vans had been springing up, and carving a decent slice of the replacement tyre market. Finding no direct comparable service in Australia, he plunged in and bought a couple of vans and started offering a web-based selling service which delivers to your door.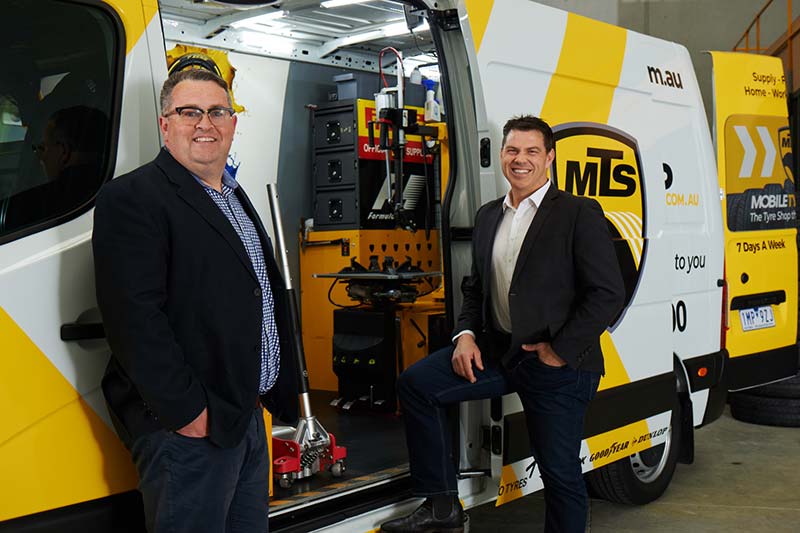 "You can order online or by phone and then it doesn't matter if you're at home, in the office or just parked on the street, we can come to you and fit the new tyres and remove the old ones," he says. "The mobiletyreshop.com.au website allows you to request a quote for a replacement set of tyres. We don't charge a call-out or fitting fee and our Renault Master vans are able to unmount your old tyres, mount the new ones and balance the wheel and tyre before refitting.
"We're linked to the vast majority of mainstream tyre suppliers and we buy wholesale, we're very competitive with traditional tyre shops, but we have the huge advantage of offering complete customer convenience," Travis says. Having started with two vans, Travis met Jamie Cartwright at Renault Australia who was working in the Fleet Sales area, and he purchased his first three Renault Master vans as the business was starting to take off. Having been intrigued by the business model, and seeing the potential, Jamie joined MTS as its General Manager of Sales and Marketing.
Now the fleet is up to 33 vans, and the business is growing by a double-digit amount every month. "We have taken a very different approach with our offer to our customers," Travis says. "We have employed a lot of tyre industry experts, and coached them to deliver premium customer service. The vans are washed every day, overalls are smart and clean and the van operators wear gloves when working, and can wash their hands after the tyre-fitting, so they can present to the customer in as professional a way as possible.
"I designed the inside layout of the Master so that the operator can easily shift the wheel and tyre from the mounting table to the balancing machines and then out of the van's side door. We have new and old tyres packed into the rear behind a safety barrier," Travis says.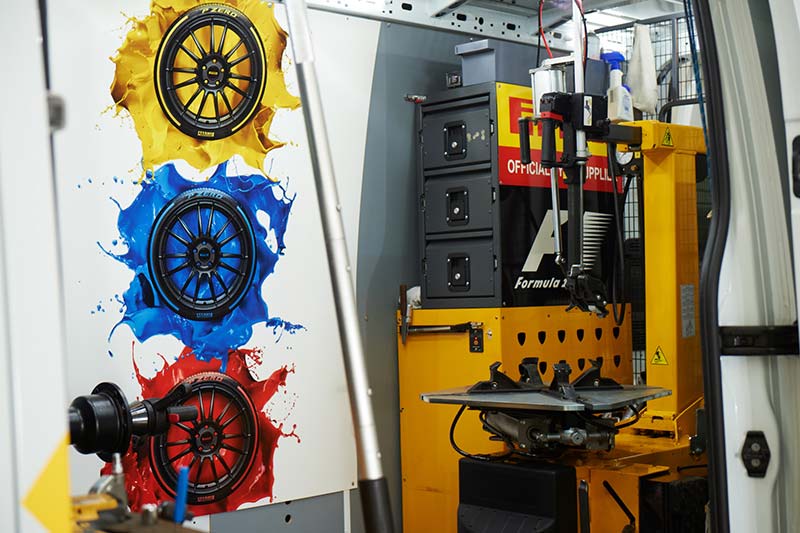 "We have invested in the best equipment from Italy to be able to deliver a high-quality service. Additionally, we now have hand-held lasers that scan the width of the tyre and can provide a read-out of tread depth, showing the customer exactly how worn their tyres are. "All of the systems onboard are powered by our batteries and the tools and machines are very quiet, so we don't disturb neighbours or need to go looking for a power source when onsite," he says.
"The Masters are covering around 55,000 km a year and we are planning to keep them a while because we have invested a significant amount in the fit-out of each vehicle. One of the benefits of the Master is that you can stand up in the back to work on the tyres. "We have also bought a Renault Trafic which has a lower roof height. This lets us access multi-storey car parks in the city to carry out tyre changes there," Travis says. "There's not really anywhere we can't go to swap tyres over."
"We have attracted the attention of several national fleets and we are presently expanding our operations to the larger regional towns now that we are present in Melbourne, Sydney, Brisbane, Perth and Adelaide," Jamie says. "We have set up operators on the Gold and Sunshine Coasts in Queensland and we are planning to be in Wollongong, Canberra and Newcastle shortly," he says.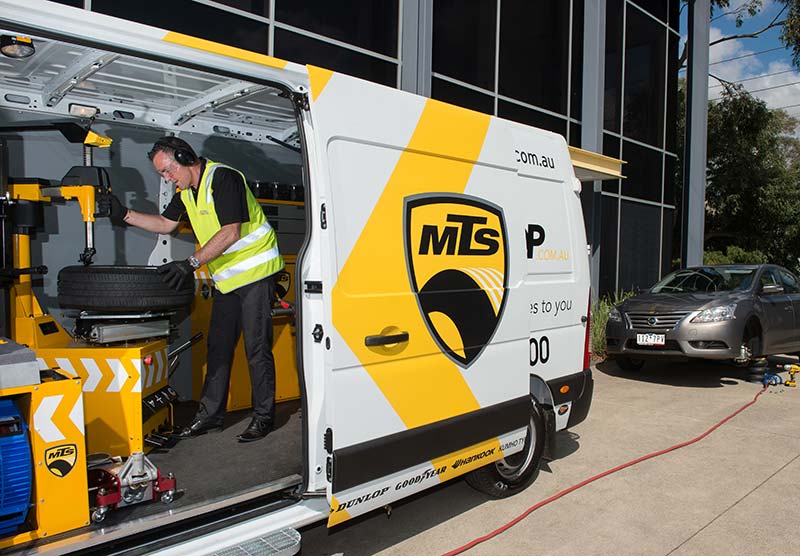 "We believe the MTS offer makes a lot of sense for private retail and business operators. Very few business fleet users keep a close eye on their work vehicles' tyres, so we also provide a free tyre inspection service for fleets. Aside from the chain of responsibility issues of business vehicles driving on worn tyres, there's the risk to their employees to consider, as well as to other road users," he says.
"Quite often drivers are unaware how near the end of their lives their tyres are, and usually they only find out after the vehicle has been in for a service and the technician notes the wear levels on the report. But then it means taking more time to get the tyres fixed. Also, cars and utes have far longer service intervals today, so they may only be inspected once a year. "By booking a tyre change through Mobile Tyre Shop we can come to you and do the job in far less time without the customer suffering any downtime," Jamie says.
As the business develops, expect to see far more yellow and white Mobile Tyre Shop Renault Masters appearing on the streetscape.
This article originally appeared in the October 2019 edition of the Renault Business Magazine.