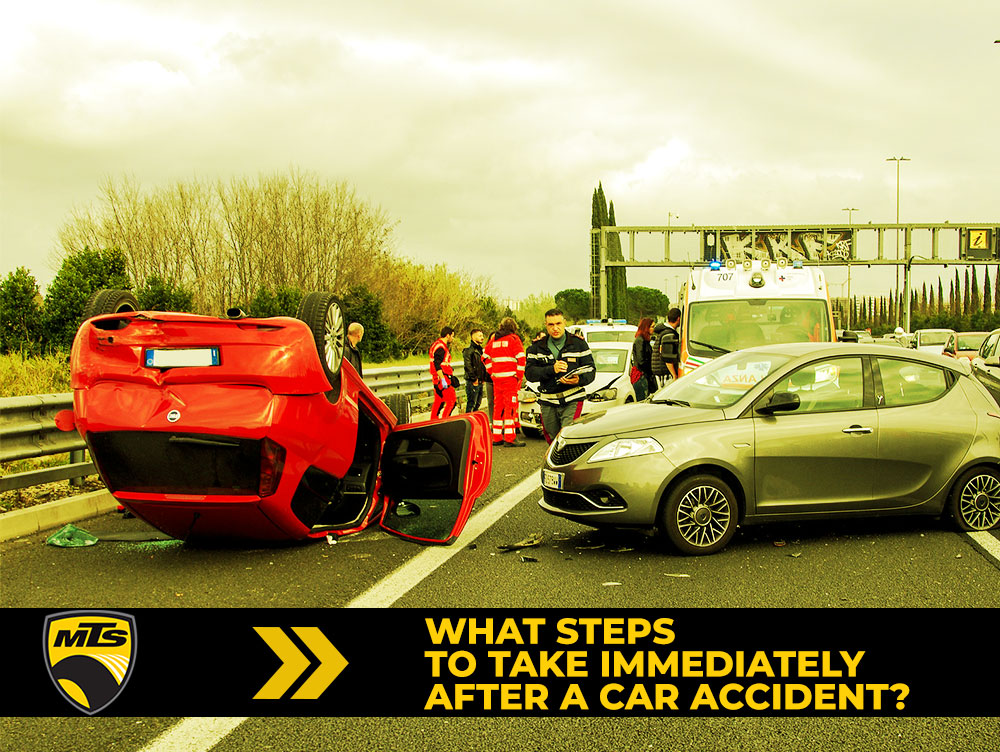 Being involved in a car accident is one of the most unpleasant experiences for any driver. While nobody wants to face such a situation, it is unavoidable at times. However, by being prepared and knowing what to do can help you deal effectively with an accident and prevent it from being a bad experience even later.
We, at Mobile Tyre Shop, wish to ensure that your driving experience is safe and an enjoyable one. While we are always here to help you whenever you get stuck and require tyre repair or replacement, we also want you to be equipped with the know-how to deal with any situation that you may encounter.
To make it easy for you, we have listed a few steps that you should take in the event of a car accident.
Inspect Your Surroundings:
Even if there is no serious damage involved in an accident, it can be upsetting. Your vehicle may sustain some damages but given the safety systems that most vehicles have these days, any severe damage is unlikely. To start with, try to get out of the vehicle as soon as you can and check the surroundings. However, make sure to remember that being hit by another vehicle while you are inside your car is not ideal, yet, getting hit while you are standing outside your car is even more dangerous. You need to keep in mind that there are other vehicles that may be involved in the crash. There is also the probability of cars coming in the zone and even crashing into your vehicle. Come out of your car only after you are sure that the route is clear and the probability of other cars crashing into your zone is not there.
After exiting the car, safety is of paramount importance. If you've crashed on the road, getting off the road as soon as you can is vital. In fact, if possible, it is wise to even move the car off the road. You may notice other cars come alongside your vehicle with the hazard lights to prevent any other vehicle hitting your car.
Check on yourself and the other people involved
There might be other people involved in the accident. Check to see if someone is seriously injured and requires medical attention. If there is someone injured, getting help must be your priority. In case no one else is involved, you can go ahead and swap information like contact details and insurance. When exchanging such information, make sure that you are in a safe zone that does not pose the risk of another accident.
Following this, inspect the accident scene. If your vehicle involves towing, get in touch with the police for a report. If there are minor damages, you may not need to call the police.
If you notice that there is a risk of road rage and feel threatened, go back to your car and call the police. While an accident can be upsetting, any form of aggression will worsen the situation.
Stay calm and wait before you drive
A car accident can leave even the most experienced driver shocked. Stay calm and keep yourself free from unnecessary thoughts. A car accident requires you to take into account things like repairs, insurance, etc. In case your car is not damaged, you may feel tempted to just drive off. However, make sure to leave the scene only after the steps are completed and you find that everyone involved is safe. In case you are shaken by the incident, it is better to call a family member or a friend to help you out. There may be injuries and pain that become apparent only after a few hours. So, it is better to take help if you are unsure.
Get in touch with your insurance company
After you are away from the scene, make sure to contact your insurance company and furnish them with all the relevant details. Even if you contact them from the accident location itself, you may have to follow up later. Your insurance company will inform you about the details they need to process your request. The process with the insurance company is straightforward and your provider will assist you with the same. You can even take pictures that will serve as proof of the visible damages.
Review the accident
Once you are back home from the accident, you may want to review the entire experience. If it was your fault, you may want to figure out what exactly went wrong. Were your tyres in good condition? If it was not your fault, you can consider defensive techniques to avoid similar accidents in future.
Assessing the accident and figuring out ways to avoid it in future is always a good idea. Maintaining your car and ensuring that your tyres are in good condition is vital to keep you safe on the road. In case you want your tyres replaced, do not hesitate to get in touch with us.
At Mobile Tyre Shop, we are here to assist you with all your tyre needs. We supply the world's best brands and models of tyres at competitive prices. Request a free quote and we will get back to you to book a time and location that best suits you. You can also Buy Tyres On-Line and Book a time. Our technicians will come to you to change your tyres. We are available from 7:00 AM to 7:00 PM on all 7 days of the week to assist you.