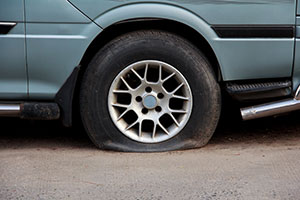 Wouldn't it be amazing if we could choose where we suffered a flat tyre? We'd be rolling up towards a service station or tyre shop and we'd suddenly notice that flat tyre…Perfect!
Obviously, the chances of this are about as slim as winning the lotto, so it's a very real risk that we will all (at some point or another) experience a flat tyre in an absolutely inconvenient location. This may be on the freeway, a crowded road during peak hour, or perhaps literally in the middle of nowhere on a road trip!
Wondering how to fix a flat tyre so that you can get back on the road soon? Here are a few steps to take if you find yourself in the unfortunate situation of having a flat.
Stop In A Safe Place
When pulling over to change a flat tyre, it's important that you look for a safe place, ideally with enough room to separate you from passing traffic. Personal safety always comes first.
Be Visible
Once pulled over, activate your hazard warning lights straight away to tell other drivers you are there. If your car is equipped with a reflective advance warning triangle, be sure to set this up at least 10 metres in advance of your car to warn approaching traffic.
Reach For Your Tools
This is the moment of truth. Hopefully, you've thought ahead and checked that your tools are there and in good working order. If you're extra organised, you may also have gloves, a torch, antibacterial wipes, and other luxuries.
Make Sure The Spare Is Inflated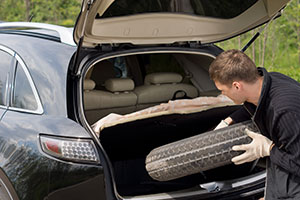 This might sound obvious, but countless motorists are surprised to find that their spare has not been touched in years and is flat or underinflated. Don't be one of these people. We recommend that you check your spare tyre every 4-6 months to check for underinflation. And you should always check your spare after you lend your car to someone, as the last thing you want is to get a flat in the middle of nowhere and realise your spare is already in use and the tyre in the boot is ruined.
Loosen The Nuts
Use a counterclockwise motion to loosen the lug nuts by hand, but don't remove them completely.
Jack Up The Car
Position the jack under your car's jacking point (you can find this in the operation manual or sometimes in the door sill). Two inches above the ground is usually enough clearance.
Remove The Nuts
Now you can remove the lug nuts completely. Make sure you keep them in a safe place, as the last thing you need is to lose them or for them to roll away!
Replace The Wheel
Remove the wheel carefully, keeping a grip either side and store it in the boot. Roll the new wheel to line up with the axle, then simply lift it and place through the threads.
Tighten The Nuts In A Star Pattern
Tighten the lug nuts – but not too tightly – making sure you adopt a star pattern (tightening in order of opposing nuts). This helps ensure correct alignment of the wheel.
Remove The Jack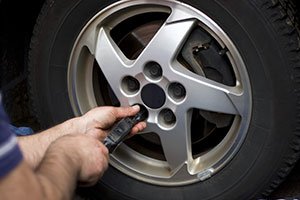 Carefully wind the jack down until the car is resting on the new wheel.
Further Tighten The Nuts Securely
Now you can tighten the nuts completely, as the wheel is under load.
Dust Off Your Hands, Give Yourself A Pat On The Back And Drive To The Nearest Tyre Centre
The hard work should now be done. Put your tools away and dust off (or wipe your hands if you're organised enough to carry wipes). Before setting off, carefully drive the car forward to ensure that the tyre is secure and no strange noises are present.
If your spare tyre is a space saver, be careful not to exceed the speed limit that is stickered on the wheel. These tyres are designed only as temporary emergency tyres, and you should purchase a new tyre as soon as possible.